6 Crucial Steps to A Successful Sales Process for Manufacturers
By Chuck Kitchen, Business Betterments
Last month, we touched on the sales discipline and how it pertains to the Lean principles of value stream mapping and 5S. This month, we want to begin talking about sales process (yes, process) and some of its benefits to both internal and external customers. Before we do, we encourage you to download our brief Internal Sales Evaluation that speaks to your current sales process. Doing this first, the information that follows will have a more profound impact on your business. Let's take a closer look.
Sales is arguably the most difficult discipline to address in business. Unlike manufacturing improvements, sales isn't as tangible; often, the results take more time than one is accustomed to. Herein lies an inherent misconception. All too often, sales happen because you are the incumbent supplier, and frankly, you don't impact the results – they go up and down with your customer's business cycle. We call this the Because Factor™. If this sounds familiar, it might prompt you to wonder how you are managing this business and what else can you do to grow with existing and new customers. Let's look at 6 crucial steps to a successful sales process that will address this and other concerns: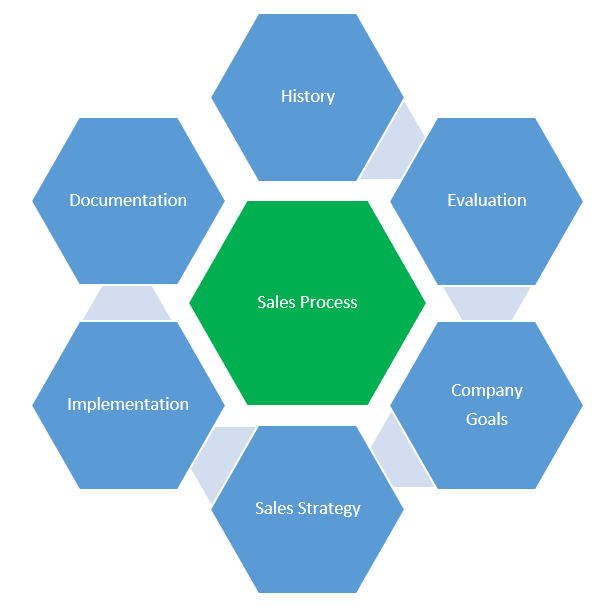 History: Gather as much historical information as deemed appropriate. While it is common to look at the previous one (1) or two (2) years, consider going back even further:

What did your sales makeup look like before, during and after the 2001 and 2008 recessions?
What has happened since then?
Break it down by sales, margins, product and customer types, etc.

Evaluation: With the historical information in hand, it's now time to do a data review. What pictures are being created?

What does the data suggest?
Which accounts are good? Bad? Industries? Products?
Other? Everyone has a viewpoint (or more).

Company Goals: Are these clearly communicated and fully understood? They include, but are not limited to:

Company objectives.
Company differentiation.
Company strengths and weaknesses.

Sales Strategy: This is where you get down to the sales effort to support company goals. Among others, here are some ideas:

Customer intimacy – does it exist?
Matching customer needs with company goals.
Time management.
Establishing goals and objectives, call schedule and time management.
Make sure the sales effort is in alignment with the rest of the organization.

Implementation: Company goals are known, a sales strategy developed and now it's time to execute:

Implement and measure actual performance to plan.
Adjust as necessary.

Documentation: It's important to keep track of what you are doing to support your customers. Remember, they are VERY busy and while you believe they know what you and your organization offer, they FORGET! So:

Document your activities.
Present your value propositions.
Repeat, repeat, repeat.
So how does this benefit internal and external customers? Through this process, our experience is you can expect to identify new opportunities and ways to improve performance and customer satisfaction; the process leads you to identifying unmet customer needs and match them with your capabilities and hence, improving your perceived value. Want to take this to another level? Using Lean, apply a value stream analysis to your current process and it's likely you will find even more ways to improve your short and long-term growth!
In summary, step back and evaluate your focus and efforts, and identify where you can efficiently and effectively improve your organization's top and bottom lines in a way that is sustainable.
Here are a few possible future subjects we are considering:
Diversification (products, customers and industries).
Sales order acquisition process (SOAP).
Pre-Call Planning.
HOWEVER…..we would love to hear from you! What topics would you like us to discuss?
Would you like help with your sales process? Hopefully we have offered some insight to help you answer this question. Interested in learning more? We encourage you to send us your specific sales questions (it becomes more meaningful to you) and we will offer suggestions free of charge. Of course, all inquiries are kept strictly confidential. Contact Business Development Advisor, Ralph Brown, at 914-393-9876, or ralph.brown@hvtdc.org.